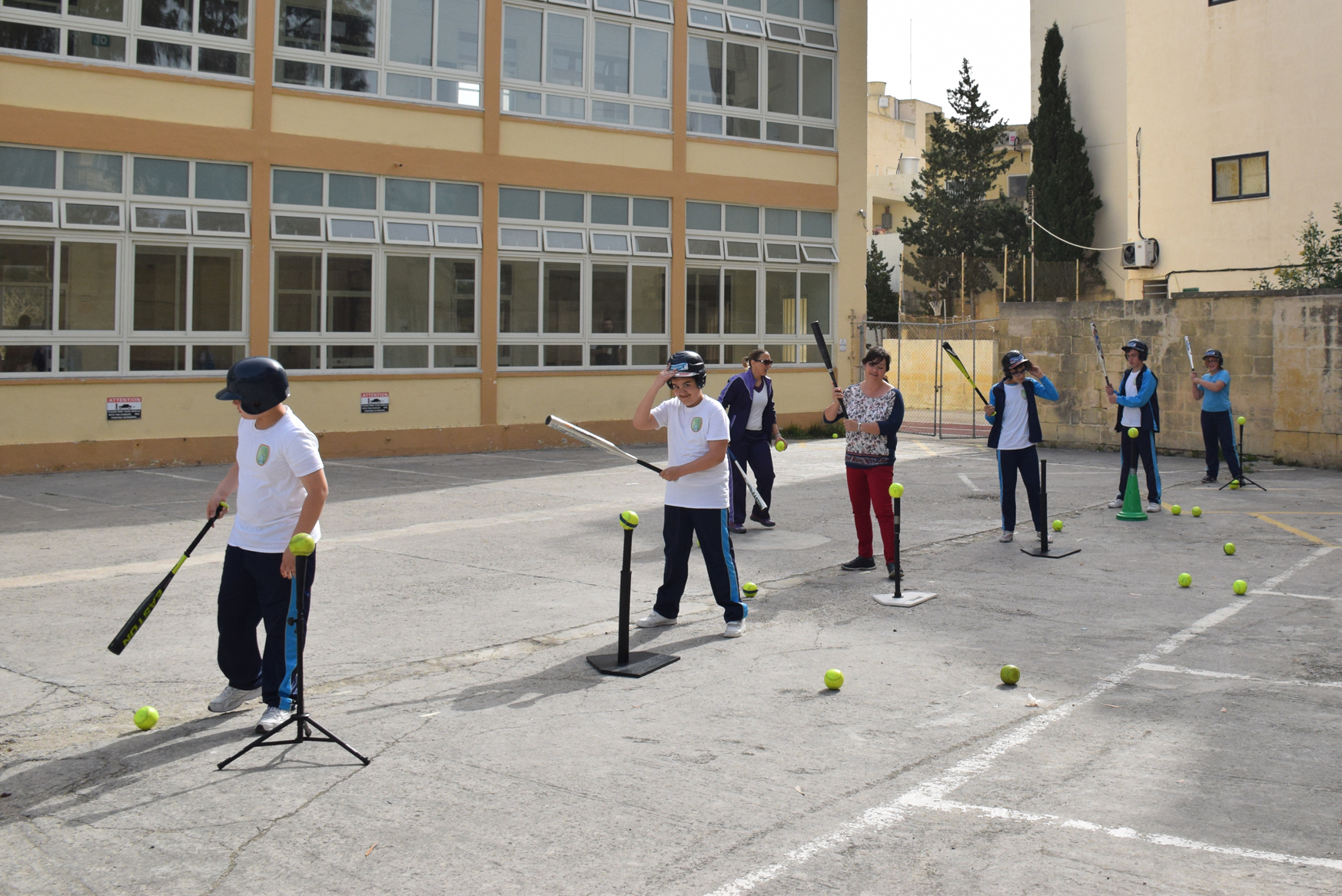 This was an opportunity for the Redcoats to promote the wonderful game of softball and the Erasmus + Sports project IGETS with the students and their parents
For the second year running the Ghajnsielem Redcoats were invited to participate in the Gozo College Middle School Open Day which included an entrepreneurial project organised by the Year 7 students of the school, called HOUSES IN BUSINESS. This was an opportunity for the Redcoats to promote the wonderful game of softball and the Erasmus + Sports: Small Collaborative Project IGETS with the students and their parents and raise awareness about gender imbalances in sports.
The Redcoats had two stations set up one involved batting with Marlene Saliba, who is one of the coaches of the club and a PE teacher at the school. The other station had a fun game of softball/handball at the 5-a-side pitch of the school where the students where learning how to throw and catch the ball while playing a fun game. There were other stations with sports such as basketball and martial arts, while inside the school the students of the nine houses were busy selling the goods they produced which ranged from delicious pan cakes to strawberry smoothies.
Among the 150 students who participated in the activity there were several girls who demonstrated a lot of potential to play softball at club level and excel in it. However, the best way to encourage girls to take up the game is to have a softball team at the school which competes against other schools. Once they play softball at school level then there would be a better chance that they would play the game with a club. If we want softball to take off in Gozo that has to be the next step, to have intra school tournaments starting from primary schools.
The activity concluded with the fiercely contested tug-of-war competition which the students took very seriously. This had the format of a best-of-three knock out competition. The Eagles and the Cheetahs made it through to the final with the Eagles coming out on top. One cannot help but congratulate the school, Assistant Head Ms Maria Buttigieg and her staff, as well as all of the Year 7 students for the activity which proved to be a resounding success.
Disclaimer: This project has been funded with support from the European Commission. This publication reflects the views only of the author, and the Commission cannot be held responsible for any use which may be made of the information contained therein.