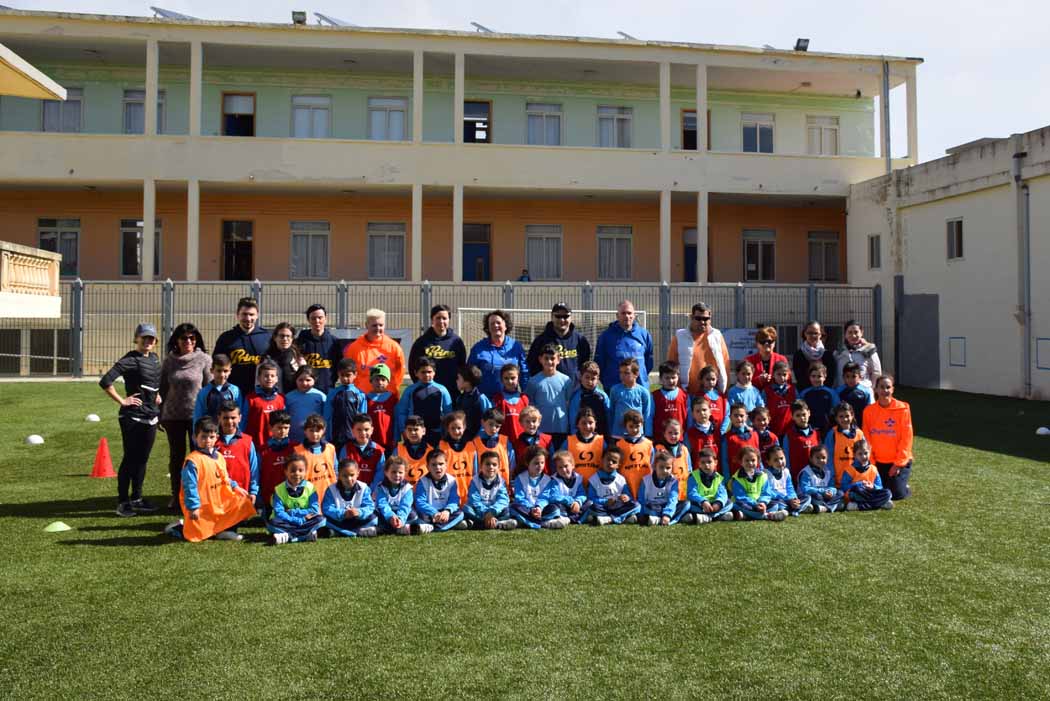 This was a glorious day for the Ghajnsielem Primary School and one to remember for the students
In an effort to promote softball and increase the rate of participation of children in sports, the Erasmus+ Sports project, Inclusion and Gender Equality Through Softball organised a practice session for the students who attend the Gozo College Ghajnsielem Primary School.
Nine coaches coming from Haarlem in the Netherlands, Zagreb in Croatia, and California, started with an hour long softball session with the boys and girls of Years 1, 2 and 3. Fundamental softball skills related to throwing, catching, fielding and batting were covered as the children moved from one station to the next. It was a very enjoyable session for the pupils at the school who performed exceptionally. 
During the lunch break Petra Cizmic Pokrajac, project coordinator of IGETS for Princ, presented the Head of School, Dame Marianne Zammit, with a softball starter pack donated to the school by the EUROPEAN SOFTBALL FEDERATION. The Head of School thanked the ESF for the generous donation and promised that it will be put to good use by the PE teachers as well as during the Tee-Ball sessions which the Redcoats conduct every week at the school. Mr Kevin Azzopardi, EO Physical Education, remarked that he was very pleased with the opportunity that was given to the students of the Ghajnsielem Primary School to experience a softball practice session conducted by international coaches at their own playground.
During the second session it was the turn of the students of Years 4, 5, and 6 to practice with the international coaches partners in this Erasmus+ Sports project co-funded by the EU. Once again throwing and catching along with fielding and batting were the skills in focus, and as did their younger peers, the older students at the school impressed the foreign coaches.
This was a glorious day for the school and one to remember for the students.
Disclaimer: This project has been funded with support from the European Commission. This publication reflects the views only of the author, and the Commission cannot be held responsible for any use which may be made of the information contained therein.
www.igets.eu
.
.
.