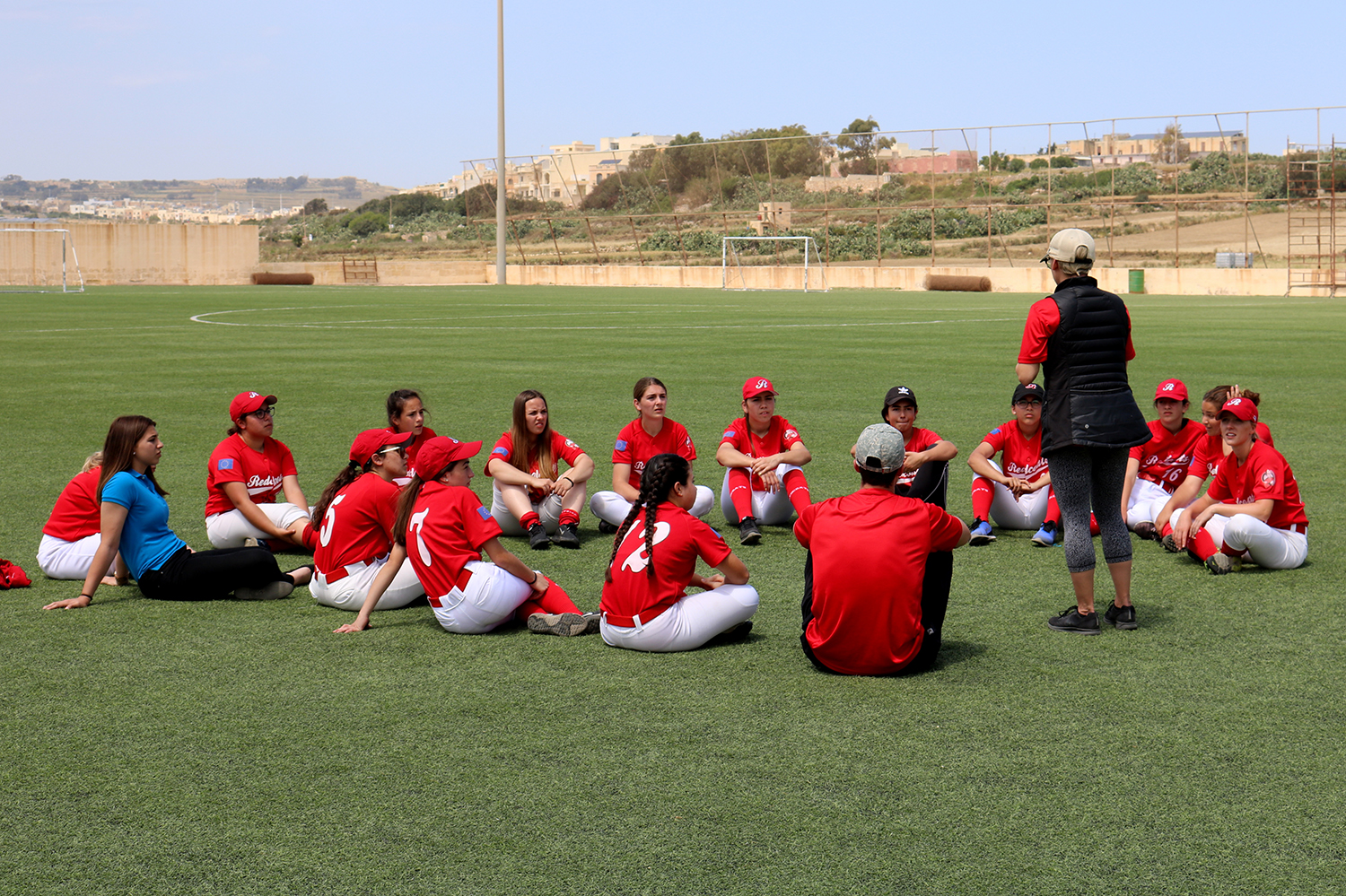 The 15 – 0 win over the Luxol Mustangs was the first shutout ever in the history of the Club for a fastpitch softball game
The transformation of the Ghajnsielem Redcoats women's softball team from error prone to a team which consistently makes those routine plays which win you games at this level, has been as rapid as it was impressive. What was missing during the performances of the Redcoats over the past two seasons is now gradually becoming the norm. The team is playing with much more focus and conviction. It is not by any stretch of the imagination the finished article yet, but the improvement over the past five weeks since Tara Henry took over as softball technical director and coach has been nothing short of dramatic.
The 15 – 0 win over the Luxol Mustangs on Sunday afternoon was the first fastpitch softball game shutout ever in the history of the Club. The Mustangs who were missing their starting pitcher, Joanne Vella, due to injury ran into a red hot team with players hungry for success. Despite the encouraging performance of Kristina Pace who was pitching during a competitive game for the first time, the Mustangs found it very hard to contain the Redcoats. Defensively, the Redcoats were also quite sharp. Two players were caught stealing during the top of the 1st inning and for the rest of the game, Redcoats starting pitcher Estelle Scicluna retired 9 of the 10 batters she faced. She struck out 5 of 14 hitters during the entire game throwing 36 of 51 pitches for strikes.
There were base hits for Tahli Moore, Corinne Grima, Monique Camilleri, Gianella Mallia and Kimberley Scerri. Gianella Mallia did extremely well replacing Daphne Cassar at 1st base registering six put-outs. There is much depth in the squad with many of the younger players now winning a spot in the starting line-up of the team, while several others are getting close to breaking into the team. Finally, the gap between the potential of the Redcoats and the level they play at is rapidly coming down.
The result means that the Redcoats now occupy first place in the standings and with one game remaining the Redcoats are in control of their own destiny. The final game will be played on May 6 against the same Luxol Mustangs. Should the Redcoats put together another solid performance similar to the one on Sunday they will be crowned Fastpitch Softball National Champions for the first time ever.
| | | | | | |
| --- | --- | --- | --- | --- | --- |
| Team\Inning | 1 | 2 | 3 | 4 | Runs |
| Luxol Mustangs | 0 | 0 | 0 | 0 | 0 |
| Ghajnsielem Redcoats | 5 | 5 | 2 | 3 | 15 |