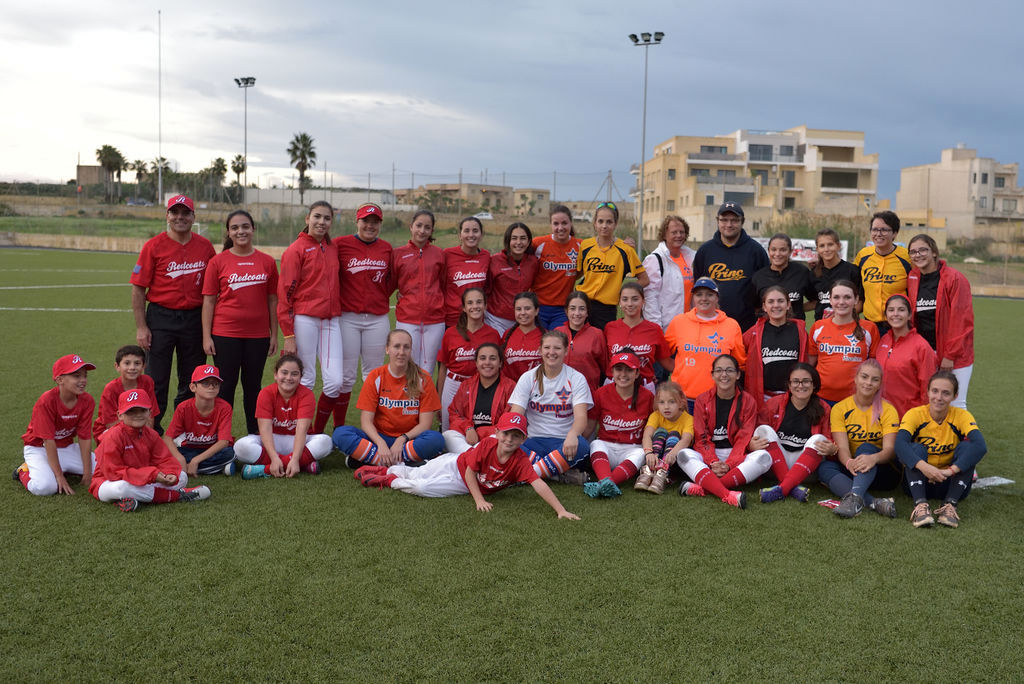 The Gozo Cup was expected to showcase the talents of the Dutch and Croatian national team players, and they did not disappoint, but nobody anticipated that the young Redcoats, with no international experience, will up their game to such a high level
When it comes to fastpitch softball players in Europe, very few are in the same league as the Olympia Haarlem left-handed pitcher Eva Voortman. With her unique style of pitching, she throws harder than any other female pitcher in Europe. Her fastball clocks well over 100 kph. It is not just her pitching that makes her such an extraordinary softball player. She can hit for average as well as for power. With her outstanding speed she is also a very effective slap hitter, representing a triple threat for opposing defences. Her speed also makes Eva an excellent base stealer. When she is not terrorising opposing hitters from the pitcher's circle, she plays in the outfield forming a very good partnership with another outstanding Olympia Haarlem player, Brenda Beers. Eva became the first European player to play in Japan's top softball league, when last year she signed a one-year professional contract with Ogaki Minamo Softball Club. Eva returned to Europe from Japan only last week, in time for the trip to Malta.
The presence of Eva Voortman along with the other stars from the two-time Dutch Golden League champions, Olympia Haarlem, Maranca Ham, Rosanne de Vries, Rachel Van Veen and Brenda Beers, made the two games of the Gozo Cup 2018 Fastpitch Softball International Tournament the highest level softball games ever to be played on the Maltese Islands. The five SK Princ Zagreb players, all of whom play for the Croatian national team, Petra Čizmić Pokrajac, Katarina Prskalo, Ema Ziger, Mara Sliško, and Rita Despot, added to the level of the two teams to face each other for the Gozo Cup, as did Nicole Thomas, a graduate of the University of North Carolina Greensboro, with four years' experience representing the UNCG Spartans softball team, playing Division 1 college softball in the US.
The pre-game ceremony for game 1, held on Friday, November 2, 2018, was fitting for a high level international event. Players from the softball and baseball academy of the Għajnsielem Redcoats walked onto the field carrying the flags of Malta, Croatia, the Netherlands, and that of the European Union, which is co-financing IGETS. Under a constant threat of heavy rain, the players of the two teams were introduced along with the two umpires for the game, Mr Angelo Muscat and Mr Michael Grech. The sizable crowd in attendance was then asked to stand up for the national anthems of Croatia followed by that of the Netherlands. Umpire Angelo Muscat was then invited to sing the Maltese national anthem. Mr Muscat is a very promising young tenor, and he showed everyone at the Għarb Stadium why he is considered to have the potential to become World famous with his impeccable rendition of Lil Din L-Art Helwa.
| | |
| --- | --- |
| | |
That set stage for the game itself. Starting pitcher for team MLT-CRO-NED, Nicole Thomas, pitched three innings striking out six batters. She only gave up two hits, a single to left field for Estelle Scicluna, and a two-RBI double to Eva Voortman, both in the first inning. None of the two runs she allowed were earned. The starting pitcher for team REDCOATS-OLYMPIA-PRINC, Eva Voortman, pitched three perfect innings, sitting down all the nine hitters she faced, registering seven strike-outs, and throwing just 31 pitches.
Rosanne de Vries relieved Nicole Thomas, whereas Estelle Scicluna relieved Eva Voortman, and both pitched the 4th and 5th innings. Rosanne allowed four runs on four hits and so did Estelle on two hits, four walks, and two HBP. Rosanne struck out four while Estelle struck out three hitters. For the final two innings Monique Attard came in for team MLT-CRO-NED. When one considers that this was only Monique's third 'competitive' game ever, one can fairly say that she did an amazing job. In the 6th inning she faced only 4 batters giving up a solitary hit to Brenda Beers who was left stranded, and in the 7th inning she struck out three hitters but allowed 4 runs on five walks and a base hit. Rita Despot came in to pitch the 6th and 7th innings for team REDCOATS-OLYMPIA-PRINC. She pitched two shut-out innings allowing four base hits and striking out a batter to earn the save. Team REDCOATS-OLYMPIA-PRINC won the game 4-10. The player of the game was undoubtedly Eva Voortman. She was outstanding pitching three perfect innings, as well as registering two base hits with two runs batted in.
However, the surprise of game one was the performance of the fifteen young Redcoats players on both teams. Despite facing such formidable opponents, during what can be regarded as the most important game of their short softball career, they all performed exceptionally well. Kimberley Scerri, Daphne Cassar, Monique Camilleri, Ilena Buttigieg, Gianella Mallia, and Estelle Scicluna all had a base hit. Emma Mercieca, Marija Vella, Monique Attard, Rebecca Grech, and Marilise Vella also made solid contact putting the ball into play but were thrown out with good defensive plays.
Similarly, when fielding. Simon Refalo playing short stop, along with Nadine Grima and Marija Vella in the outfield, played their position very well making good plays when called into action. Both Laragh Tabone and Daphne Cassar were solid at 1st base making plays like their veteran teammates. So were catchers Marilise Vella and Corinne Grima who had the toughest task behind home plate. Corinne threw out a runner at 3rd base on an attempted steal, another one at home, and caught a challenging pop-up well behind home plate. Estelle Scicluna also distinguished herself playing short stop for the first time ever. She made a put-out and had two assists from short stop and had another assist while pitching.
The Gozo Cup 2018 Fastpitch Softball International Tournament was expected to showcase the talents of the Dutch and Croatian national team players, which it did as can be confirmed by all those in attendance who thoroughly enjoyed the spectacle. Nobody anticipated that the young Redcoats, with no international experience, will up their game to such a high level. For the girls from Gozo to feel overwhelmed by the level and class of their opponents, and be slightly intimidated, would have been understandable and acceptable given the circumstances. It would have been part of their learning experience. However, for them to perform as well as they did is proof that IGETS has made a significant impact, not just in the level of skills of the players, but also on the attitude and self-belief of each and every one of them. IGETS empowered the young Redcoats. The capacity building and sharing of best practices also improved the level of coaching for the Redcoats. These young players are going to be an important part of the legacy of this highly ambitious project. They are on the right path to be able to compete internationally in the not so distant future.
IGETS is a two-year project co-financed by the European Union. The Ghajnsielem Redcoats received assistance from the Ministry of Education and Employment through the Parliamentary Secretary for Youth, Sport & Voluntary Organisations to meet its co-financing obligations.
Disclaimer: This project has been funded with support from the European Commission. This publication reflects the views only of the author, and the Commission cannot be held responsible for any use which may be made of the information contained therein.
Photos courtesy of ANACA PHOTOGRAPHY – www.anacaphotography.com