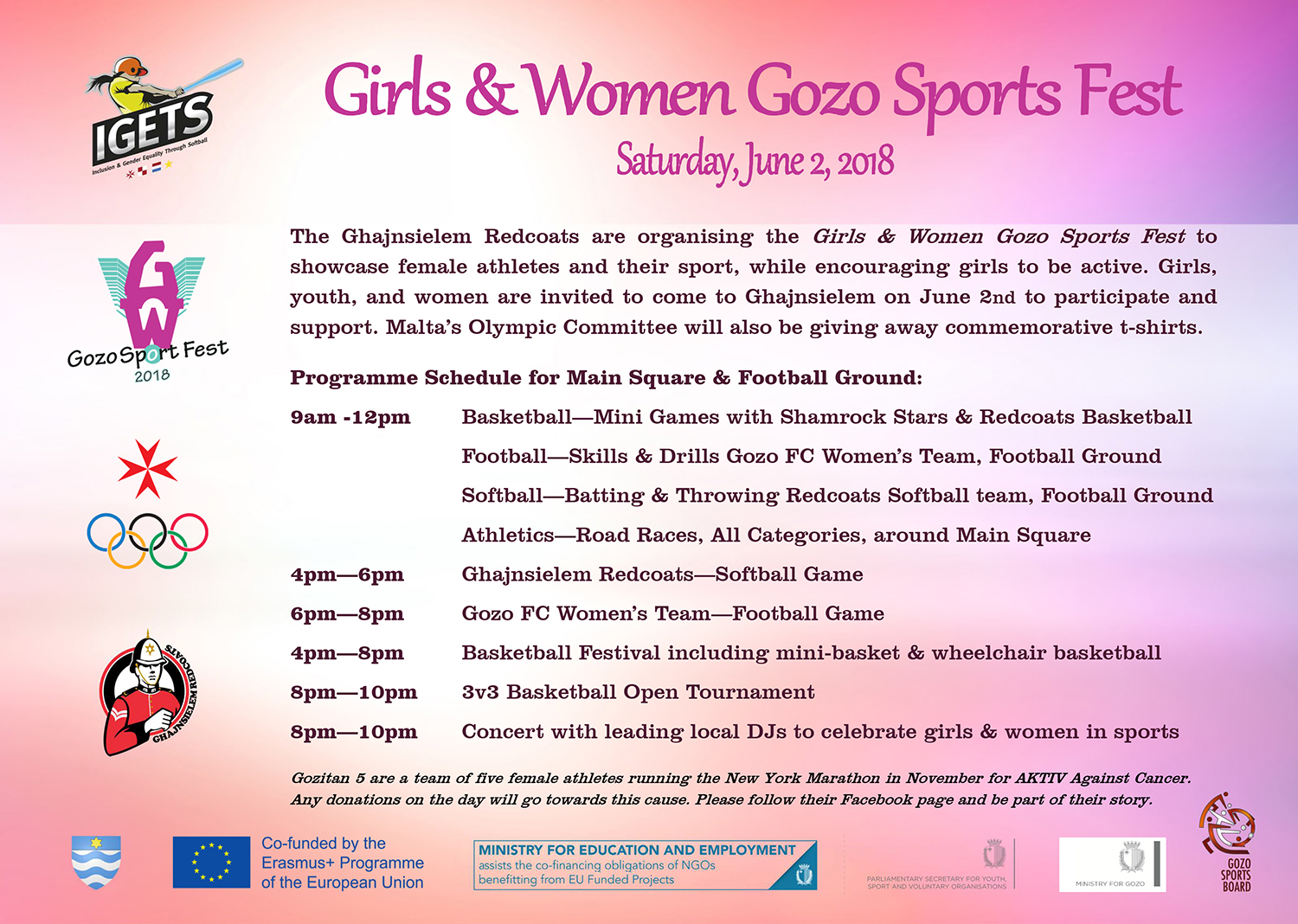 Boys and girls 4 to 13 years old from all over Gozo are invited to attend and experience the Olympic spirit right here in Ghajnsielem
G & W Gozo Sports Fest – Olympic Day
This Saturday, June 2, there will be double celebration at the Ghajnsielem Centre, as the Girls & Women Gozo Sports Fest and Olympic Day will be commemorated during a combined event. From 9am to noon children will have the opportunity to play basketball, football, athletics and softball at the Ghajnsielem Football Ground and at the Main Square.
Boys and girls 4 to 13 years old from all over Gozo are invited to attend and experience the Olympic spirit right here in Ghajnsielem. The Maltese Olympic Committee will be distributing t-shirts along with a certificate of participation issued by the International Olympic Committee. There will also be other gifts including key chains and wrist bands of the Commonwealth Games.
Parents are urged to bring their children at the entrance of the Ghajnsielem Football Ground at 9am for registration. A donation will be collected for the Gozitan 5, the five female athletes who will be participating in the New York Marathon in November for AKTIV Against Cancer.
The Ghajnsielem Redcoats are organising the G & W Gozo Sports Fest with the collaboration of the Maltese Olympic Committee, the Ministry for Gozo, and the Gozo Sports Board. The G & W Gozo Sports Fest is part of the Erasmus+ Sports: Small Collaborative Partnership project of the Ghajnsielem Redcoats, Inclusion & Gender Equality Through Softball. IGETS is co-financed by the European Union. The Ghajnsielem Redcoats received assistance from the Ministry of Education and Employment through the Parliamentary Secretary for Youth, Sport & Voluntary Organisations to meet its co-financing obligations.
.